Bangladesh Open University (BOU) SSC Admission Circular 2022-2023 has been Published. According to the BOU SSC Admission notice 2022-2023 Notice JSC/JDC/Equivalent exam passed students Can Collect and submit application forms from the BOU Website from 01 July 2022 to 27 October 2022.
The application form is obtainable from BOU Website. Applicants may also Collect Application form from BOU official website – osaps.bou.edu.bd. Students can submit applications till 27 October 2022. Have to Pay Application Fee through bKash/Rocket/DBBL Nexus Debit Card.
Eligibility For BOU SSC Admission:
Applicants must pass the JSC/JDC/Equivalent exam.
Applicants' birth date cannot exceed: not mentioned.
BOU SSC Admission Timeline:
Admission Application submission period: 01 July 2022 to 27 October 2022.
Admission with late fee: –
Class starting date: 09 September 2022
 BOU SSC Admission Fees:
Online Application Fee: 100
Registration fee: 150
Course Fee: 3,675
ICT (compulsory) Practical Fee: 100
Academic Calendar Fee: 50
Digital/Plastic ID card Fee: 200
Exam Fee: 350
1st Year Number Sheet Fee: 70
Total Admission Fee: 4,695
[200 TK more will be included for Science Section student's 2 Practical Courses]
Class Days: Friday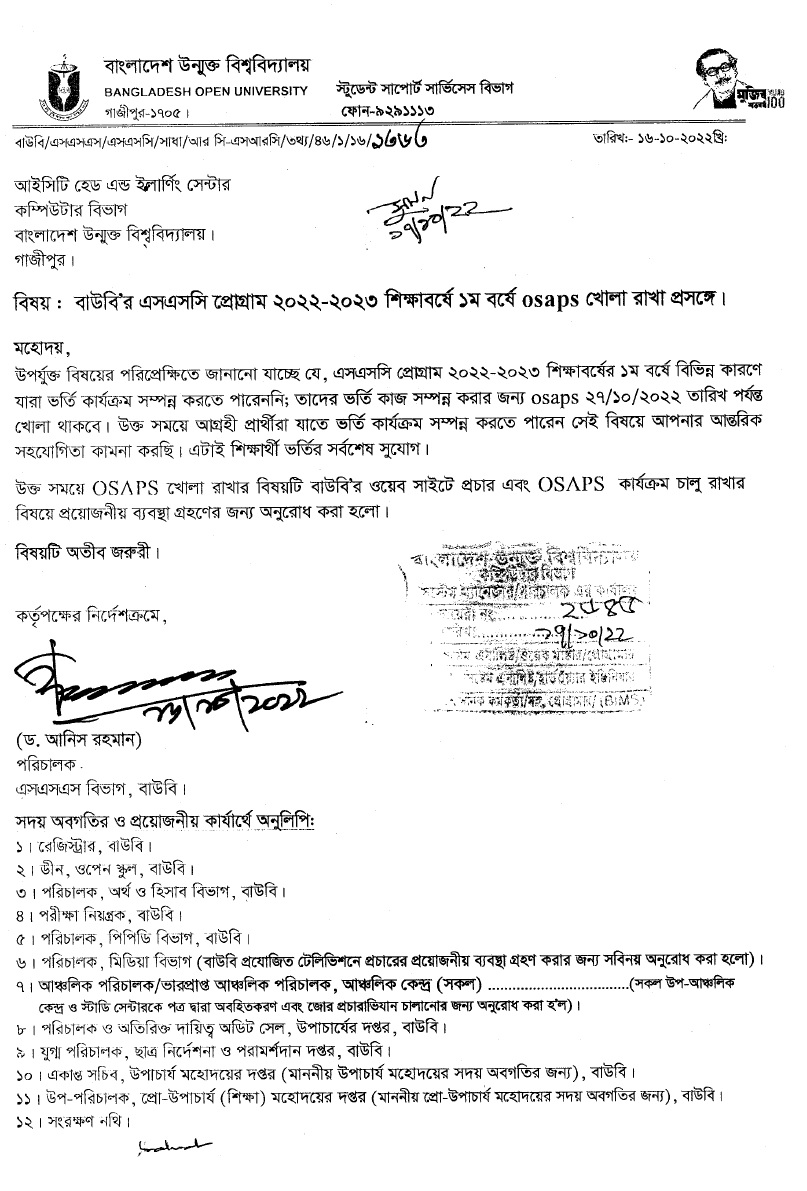 Bangladesh Open University BOU SSC Admission Circular 2022-2023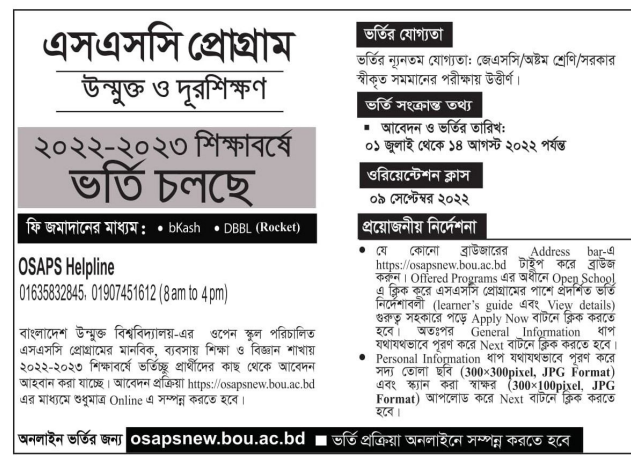 More information about Bou SSC Admission 2022-2023:
Each admission center can admit a maximum of 400 students. Applicants must submit attested copies of academic papers. Only authorized centers can admit Science and Business group students.
Open school is one of the largest six schools of BOU in respect to the number of student enrollment. Any person has a chance to be admitted irrespective of age, gender and profession in any program of the school. At present, BOU is offering Secondary School Certificate Program Admission 2022-2023.
Popular search terms:
BOU SSC Admission Apply Process 2022-2023, BOU SSC Admission 2022-2023 Application form, Bangladesh Open university Admission process, BOU SSC course admission notice, When will start BOU SSC Program Admission 2020, www bou edu bd notice, www.bou.edu.bd ssc admission, BOU SSC Admission circular pdf download